Gift Wrapping
All orders from Laure SELIGNAC are delivered in a blue box wrapped in a Bolduc ribbon, with the exception of jewelry where they are delivered in a jewelry box.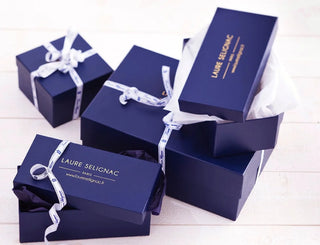 Story of a gift at Laure SELIGNAC
Christmas approaches. Michèle and François wait patiently to see their son, whom they have not seen for a year. However, they received an email from Jean saying that he was not going to be able to come back because of his work in Japan.
Since Jean finished his studies, they see him less and less. These parents understand that their son is starting his own life in a different world with all the challenges around him. They remember when Jean was a schoolboy, the moment when children ran around the table and the joy when they opened their Christmas presents. They miss a lot. The couple decides to offer a gift symbol of their love.

The gift arrived at Jean's house three days before Christmas. He almost cried when he opened the package. Although he is 9850 kilometers away from his home, he could feel the festive atmosphere through the French artisan motifs, full of memories come back: Christmas meals, the big meeting with Papi, the Christmas trees decorated by his cousins ​​and of course, the Christmas gifts of his parents.

When he returns his trinket-tray gift, a small hand-painted message on the back of the porcelain particularly touches him: "Merry Christmas Jean, Dad and Mom"

A little sentence, but many feelings. Immediately, despite the time difference, he takes his phone to talk to his parents. They answer. It is only 10 pm in Paris. The family is always with you, no matter where you are.